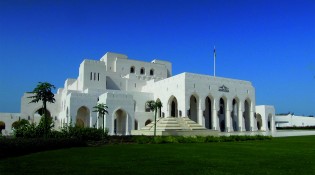 Only two weeks after the Vienna Philharmonic´s New Year´s Concert, the world famous orchestra travelled to the Sultanate of Oman, inaugurating the new concert season at the sumptuous Royal Opera House Muscat on 16 January 2012. A total of three debuts took place before an enchanted audience: not only the orchestra, but also Maestro Valery Gergiev and the spellbinding young soloist Daniil Trifonov stepped out onto an Omani podium for the very first time.
The only 21 year-old laureate of the Tchaikovsky Competition 2011 (1st prize) and Chopin Competition 2010 (3rd prize) enthralled local audiences at the sold out opera house just as he had done at his debut performances at the Vienna Musikverein a few days before thus confirming once again Maestro Gergiev´s gift as a talent scout. The latter took the concert listeners on a travel through Russian music history garnering standing ovations for corkers and less well-known repertoire alike.
Opening with the Symphonie classique by Sergei Prokofiev, Daniil Trifonov came in second, creating a furor with Peter I. Tchaikovsky´s famous Piano concerto in b minor. After the interval, the orchestra evoked the musical universe of Rimsky-Korsakov´s rarely performed Suite in four scenes from "The invisible city of Kitesh " followed by Rodion Shtshedrin´s Concerto for orchestra No. 1 "Naughty Limericks".
The Vienna Philharmonic were very much impressed by the new opera house which sets itself apart by a highly appealing architecture respecting needs of both musicians and audience and reflecting the nature of the country itself. Other than this, auditorium and stage are very flexible catering to the special requirements of opera, dance, musical and concert performances alike: a mere push of a button sets 500 tons of stage weight in motion, re-arranging it into a beautiful concert stage for the Vienna Philharmonic with a huge organ at the back.